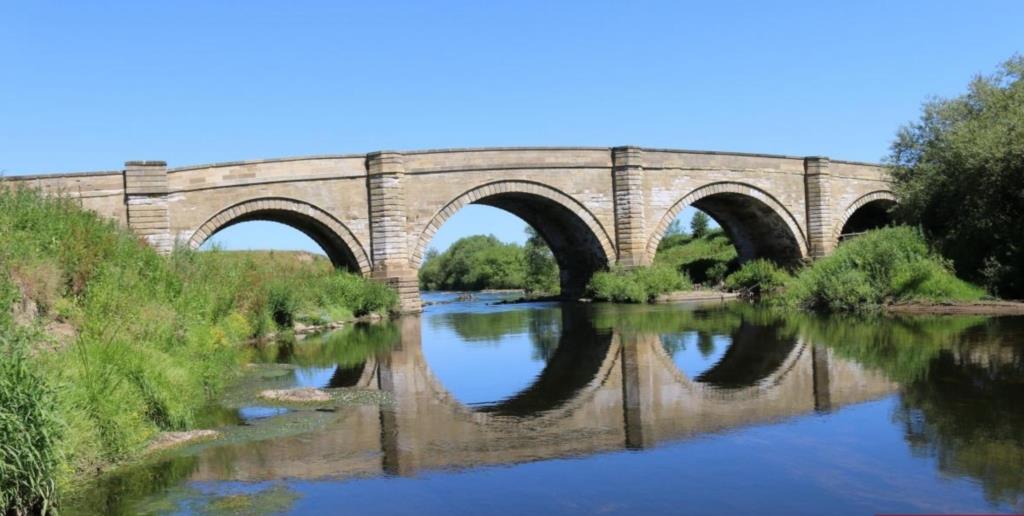 The stone bridge over the Swale was built in 1747-8 to replace a previous wooden bridge which was probably the successor of a manorial ferry. It is a Grade II Listed building, whose statutory address is Morton Bridge, Leeming Bar Road (A684).
A murder was committed near there in 1759. In the 18th century, according to a writer called Saywell in his book called The History of Northallerton he refers to a poem relating to a murder which was committed on the bridge at Morton-on-Swale. In the poem Mary Ward, a servant girl who lived at Leeming Bar, had jilted her lover who was a farmer. Mary had discovered that her boss was the leader of a gang of counterfeiters at a time when counterfeiting carried the death penalty. One night her sweetheart came on horseback and told her that her mother, who lived at Fairholme, was ill and wished to see her. Mary agreed to go back to Morton-on-Swale with the young man. However when crossing the bridge the young man "checked his horse" and reminded Mary of "trust betrayed". Mary was frightened and jumped off the horse at the bridge. She was then chased by two 'fiends' who appeared and in the struggle she fell to her death. The poem does not say who these 'fiends' were but local people mentioned that Mary had previously disturbed the counterfeiters at work. Her ghost is reputed to haunt the bridge and appear quite often. Her body was never found.
In the middle of the 19th century the local vicar and villagers would go to the bridge on alternate nights to cry down the ghost. They did this for more than a year.
The bridge featured prominently as a landmark in ITV4's aerial coverage of the Tour de Yorkshire in May 2018 which passed through Morton-on-Swale during Stage 3 of the race from Richmond to Scarborough.
More notoriously, it is unfortunately the subject of periodic closures, mostly due to flooding of the land and highway to the west of the bridge rather than of the bridge itself when the Swale bursts its banks after heavy rainfall. However there have also been two or three incidents in recent years where the bridge itself has had to be closed for repairs after a road traffic accident has caused damage to the stonework or when floating debris damaged the bridge supports. The strategic importance of the A684 as a main east-west route, particularly for emergency vehicles travelling to the A1(M) and villages further to the west, means that bridge closures can sometimes mean lengthy diversions, especially when Great Langton Bridge is also closed due to flooding.